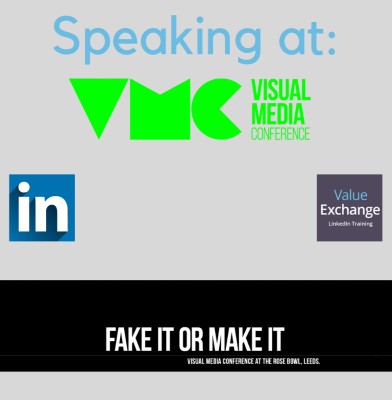 Visual Media Conference
It's my pleasure to be among the many talented speakers of this year's Visual Media Conference which takes place at The Rose Bowl in Leeds on Tuesday 8th September.
Now in its 7th year, the Visual Media Conference is a popular and FREE one-day event that has built a reputation for providing a vivid insight into the impact of digital technology in marketing and communication, from both a brand and a consumer perspective.
Brought to you by The BPIF, organised together with CDI Creative Digital Industries, the event boasts an impressive line-up of national and international speakers who will showcase powerful case studies and provide actionable, take-away ideas.
The exciting conference also includes an exhibition featuring Virtual Reality1
Topics
"Fake It or Make It" is the theme for this year's event, which is being curated by CDI Creative Digital Industries President, Robert McClements. Issues that will be tackled include:
The falseness of news
Abuse of data
Google stats
Fake followers
Greenwash
Trustworthiness and authenticity
Speakers
Speakers include James Sommerville former VP Global Design at The Coca-Cola Company in Atlanta who will deliver a talk titled Creativity, Courage, Culture, Communities. With speakers from as far away as the North Pole, there's bound to be a speaker on a topic that'll pique your interest! For a full list of speakers click here.
The event promises to be a rewarding mix of knowledge, information, and insight!
The exhibition and registration opens at 8:45am with the speaker programme kicking off at 9:30am. The event finishes in style with networking drinks at 4-5pm where you can mingle and chat with exhibitors and peers.