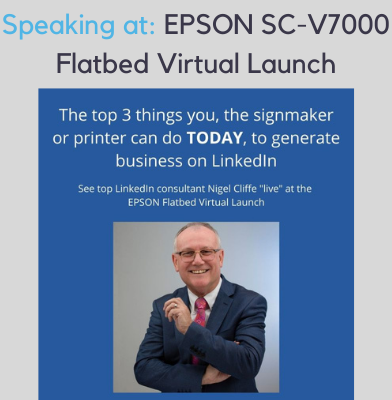 3 Things You, the Sign Maker or Printer, Can Do Today to Generate Business on LinkedIn
Did you know that 75% of B2B buyers use social media to make a purchasing decision? (Source: LinkedIn)
LinkedIn can be an incredibly powerful sales and marketing powerhouse if used effectively. This applies to most professions, including sign makers and printers!
That's why I'm delighted to have been invited to deliver a brief yet valuable "Top 3 things you, the signmaker or printer, can do today to generate business on LinkedIn" session at the Epson SC-V7000 Flatbed Virtual Launch on Weds 30th Jun at 2:30pm!
Don't miss this unique opportunity to hear about how you can leverage LinkedIn to grow your business!
The event will see 250 printing and signmaking industry professionals brought together for:
A special opportunity to see the ground breaking technology of the Epson's first UV flatbed printer close up
A chance to learn more about Epson's commitment to the signage and graphics industry.
An exciting product demo
An engaging keynote speech from Epson
Top tips from yours truly on how you as a signmaker or printer can leverage the latent power of LinkedIn to drive new business and stay ahead of the competition.

How to Register

The whole event will last one hour. You can register for free by clicking the button below: