It's the start of a new week and something REALLY IMPORTANT has been updated on LinkedIn…
Take a look at your LinkedIn Profile page – see what has changed?
The 'About' section (previously called the 'Summary' section) has been altered with a new 'Featured' section now appearing beneath it.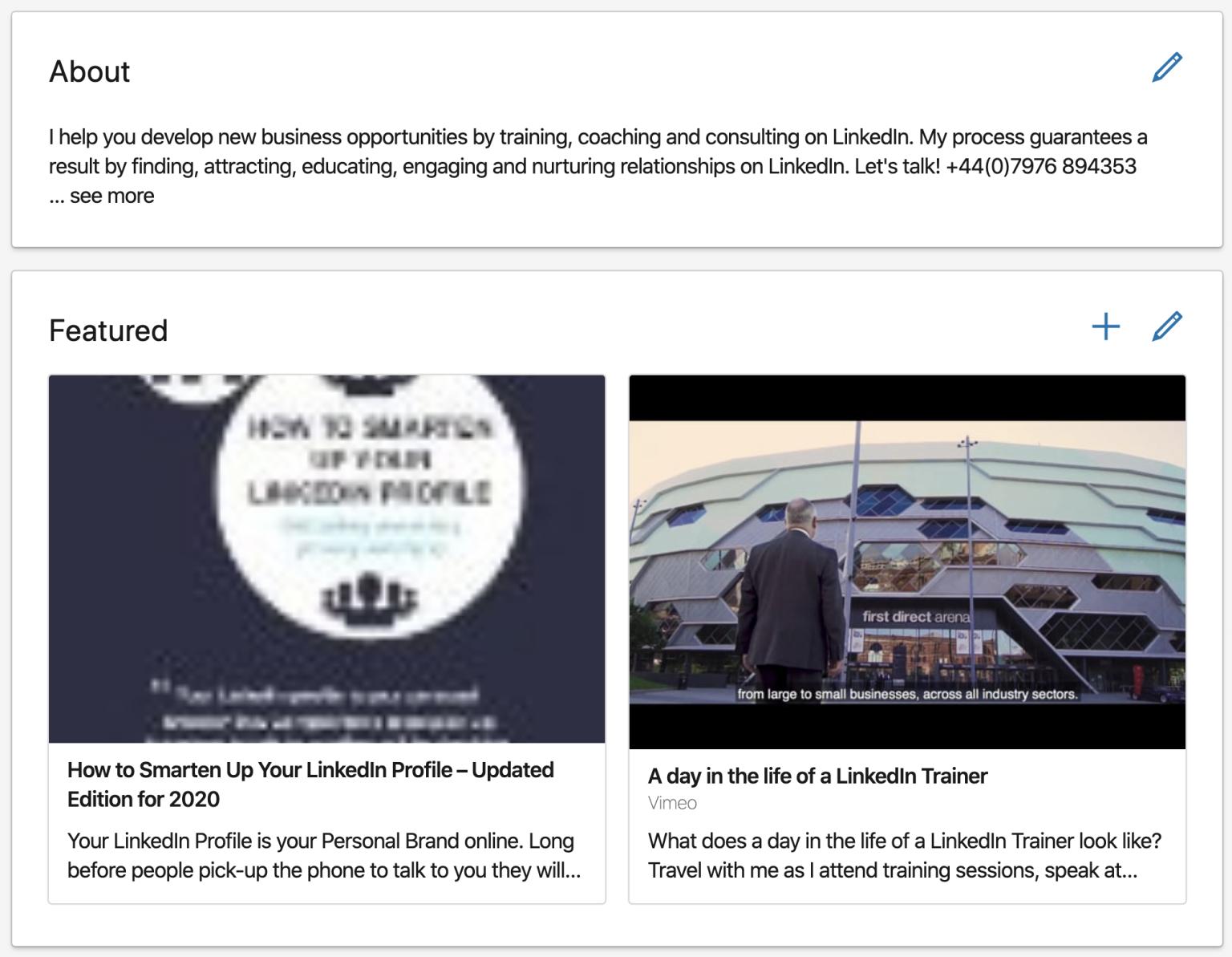 It is early days yet, but I think this is significant – and potentially for good.
The new Featured section is only available on the main LinkedIn website and not on the mobile phone app. That is partly why I advise everyone to spend time on the desktop to enjoy a better experience on LinkedIn! The new Featured section may also take a while to roll out and be available to everyone.
It used to be that 'rich media' appeared within your About section, at the footer, below it. It now appears in its own section, under its own heading 'Featured', giving it much more prominence than before.
How Can the Update Improve Your LinkedIn Profile?
The new Featured section will make it easier to shine the spotlight on your key achievements, skills and competencies. For freelancers, it is a great opportunity to highlight the services they offer and showcase their work in a visually appealing, eye-catching manner.
According to LinkedIn this way of improving your LinkedIn Profile has been in high demand. Social Media Today reports that LinkedIn says:
"The Featured section allows you to showcase samples of your work to people who view your LinkedIn profile. This is a great way to provide evidence of your skills and experience."
So, Here's the Rub:
If you already have rich media in your About section, well done, you are ahead of the curve! (But make sure it looks good in this new format).
If you don't have any rich media – add some quick!
So What Do I Mean by Rich Media?
Well, you can add a video, a document, a website link, for example. I choose to add my corporate video (because my 'on the fly' renditions can be, err, less professional!) and a free resource for people to improve their Profile, uploaded as a PDF.
You Can Even Add Your Own Posts to Your Featured Section
As well as adding Rich Media, you can also add any LinkedIn post you have written and published on LinkedIn to your new Featured section (of course your LinkedIn posts can be made up of videos, images and links to make them more engaging).
In order to add a previous post or article that you have published on LinkedIn to your new Featured section, you'll simply need to select the new 'Featured' star below posts in your activity feed.
Once you've added some content to your Featured section, you'll then be able to alter how it's displayed, and re-order the content. You'll also be able to delete anything you don't want to display in your Featured section at any time.
Don't miss the fantastic opportunity to, not only improve your LinkedIn Profile but to enhance your brand and direct people to information and content that helps them grasp what value only you can deliver.
Get on it now! Seriously, this is good news for those that want to succeed on LinkedIn!