Privacy? What privacy?!
Do you find yourself wondering about just how much online privacy you have these days?
I certainly do.
I'm acutely aware that pretty much every keystroke I make is being tracked, somewhere, by someone.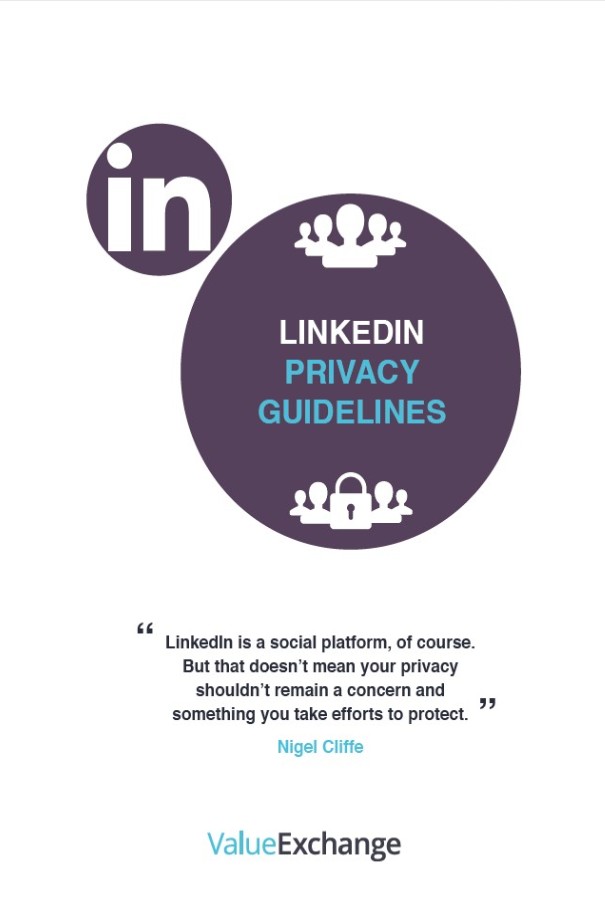 So how does this translate when using LinkedIn?
I'm on the LinkedIn platform to learn and engage with like-minded people who want to develop themselves and grow their businesses. So being 'open' is a key feature of engaging on LinkedIn.
However, there are a number of things I can do that I believe are essential, in fact, some are CRITICAL, to afford me some privacy whilst engaging on the platform.
I thought I'd share them with you in a new informative download titled 'LinkedIn Privacy Guidelines' and show you how you can fix them for your increased privacy too.
There are literally over 100 settings to consider on LinkedIn that span the categories of Account, Privacy, Ads and Communications. All these settings are found in different tabs, which are accessed by:
Clicking on the 'Me' link in the top right-hand corner of LinkedIn next to your Profile photo.
Selecting 'Settings & Privacy' from the 'Account' section of the drop-down menu that appears.
While this downloadable document couldn't possibly cover all the settings available on LinkedIn, I'd strongly recommend that you take some time out to go through all of the available settings and tailor them to your needs and preferences. As you will have no doubt guessed from the download's title, the document focuses on settings found in the 'Privacy' tab of 'Settings & Privacy', sharing best practices tips and advice on how to take control of your LinkedIn Privacy Settings.
What does the LinkedIn Privacy Guidelines document cover?
How Your Public Profile is set in terms of public visibility
Personalising your LinkedIn URL (customising your LinkedIn Profile URL is a no-brainer and makes your Profile look more professional!
Taking control of who can see your email address and which email address they see
Who can see your Connections (for me this is the most important question the document answers!)
How to switch off the 'Viewers of this profile also viewed' feature that people see when they land on your Profile (which means people could be seeing your competitors!)
Determining if you view other Profiles in visible or private mode
How to identify a potential 'Fake Profile'
Choosing if your Connections get notified if you update the Job or Education section on your Profile or get informed about your Work Anniversaries
How to download your data, such as your posts and Connections from LinkedIn
Deciding who can discover your LinkedIn Profile if they are not Connected to you but have your email address
Choosing who can find your LinkedIn Profile if they have your phone number
Why I would advise turning off the sync contacts and sync calendar settings
How to ensure your birthday doesn't appear on your Profile
---
---
As I hope you can deduce from the contents list above, the document is a comprehensive yet easy to follow guide to LinkedIn Privacy Settings.
If you have any suggestions to add, I'd appreciate knowing about them (let me know by Commenting on LinkedIn or emailing me!), and may very well produce edition 2 of this 18-page document.
Otherwise, I hope you find the LinkedIn Privacy Guidelines document helpful for achieving the privacy you deserve!