If you are an active LinkedIn user, you may have spotted several new features on LinkedIn lately. Some of these new features are LinkedIn's way of responding to COVID-19. In fact, in hindsight, it's worked out a blessing for many businesses that LinkedIn launched its Events facility back in October 2019, given that most professionals had to take their services online in 2020.
LinkedIn has since released some other new features in a bid to improve its User Experience. You may even think that a few of these new features are an attempt to copy or keep up with other social media platforms. Let's take a look at the recent additions to what LinkedIn offers …
Polls
In this LinkedIn post I highlighted a cool new feature on LinkedIn …
Polls! I also predicted a spate of Polls as the new feature took hold. Polls are available in all areas of LinkedIn, from your Profile, Company Page, Showcase Page, Group or even inside a LinkedIn event.
The creator of the Poll, and anyone viewing the post containing your LinkedIn Poll, can see how many people have responded to your Poll while it's active and when it comes to an end. You can add up to four possible responses for your Poll, although LinkedIn users can currently only select one response. The duration a Poll is active for can be set from 1 day up to two weeks.
Downsides:
There are some key deficiencies in Polls, however. One of these downsides is that they don't appear on your timeline and can't be easily found once you have published a Poll. Polls might be a useful tool serving as an instant attention grabber, but I'm not yet convinced of their long-term value. The quality of the question you pose in your Poll is most definitely key to the success of your Poll. If it's thought-provoking and resonates with your audience, the engagement will come.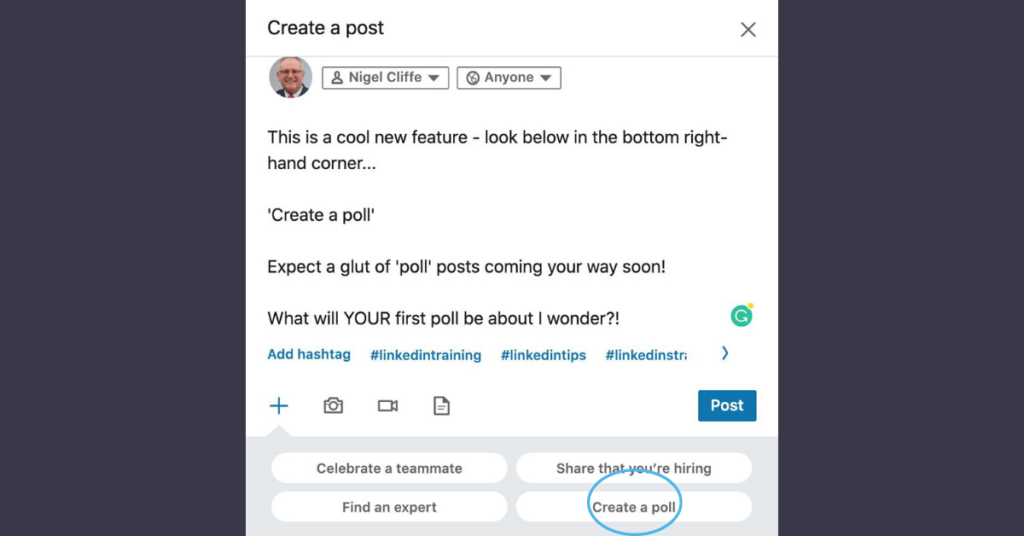 Interestingly, some of my LinkedIn Connections thought LinkedIn Polls will be no substitute for good quality content on LinkedIn that answers questions people often ask (rather than asking them) BUT…
…Mackayla Paul has compiled a helpful list of 9 ways to use LinkedIn Polls for business over on Social Media Examiner. These ideas include:
Discovering your network's top goals
Identifying your audiences' preferred content type
Collecting client and customer feedback for your products and services
Measuring interest in a new product or service or idea
Engaging with prospects in your LinkedIn community
Uncovering your LinkedIn audience's top pain point
Pinpointing knowledge gaps
Investigating upcoming industry trends
Determining LinkedIn audience demographics via industry or company roles
Stories
Just as LinkedIn Polls seem to echo the similar feature that is already available on Twitter and Facebook, emerging LinkedIn Stories seem to mirror the Story trend on Instagram, Snapchat and Facebook. My good friend and video marketing expert, Ryan Mulhern posted about this new LinkedIn feature a few weeks ago. Ryan pondered if LinkedIn was losing its identity by introducing Polls and wondered if this addition would result in more pressure to create content on the platform.
It seems like LinkedIn Stories are being rolled out gradually, country by country. Ryan shares LinkedIn Trainer and Social Media Strategist, Jo Saunders' example of how to use Stories.
Watch This Space
LinkedIn Stories has been spoken about for a while. It's hard for me to comment and have an opinion until I can see the new feature for myself. Initially, it looks very interesting, and may work well to provide your Connections with an authentic snapshot of you at an event, to capture the atmosphere (post-COVID of course!) but also a bit 'Instagram-like'. Therefore, I'm not sure if I like it or not yet! You can be assured as soon as I have a feel for it, I'll be 'out there' experimenting with it!
Support Reaction
Prompted by "these challenging times" LinkedIn has added another 'Reaction' to its selection, namely 'Support'. Social Media Today imply LinkedIn user, Omar Abedin was the catalyst for the change after he posted the below question/feedback to the then CEO of LinkedIn, Jeff Weiner.
"We've also added a new support reaction so that you can show support for articles, posts, news or views.

"Coming together as a community is one of the most important things we can do to get us closer to reaching our goals. We're continuing to roll out new tools that allow our members to give and get help on LinkedIn, because we're all better when we're in it together." – Kiran Prasad on LinkedIn's Official Blog.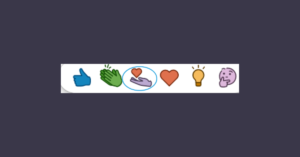 The new addition demonstrates the popularity of the Reactions feature as a whole, as LinkedIn wouldn't invest in adding another one if the feature was under-used.
Again, reminiscent of Facebook's 'Care' Reaction to give users freer rein to express themselves, the emoji-response options provide another way to engage with posts where a 'Like' or 'Curious' Reaction doesn't quite cut it.
Open to Work
I have always said LinkedIn is MUCH more than an online CV. It has the power to position you as a thought leader and generate leads for your business…IF you engage and use the platform properly.
However, unfortunately, the coronavirus pandemic has left many people out of work.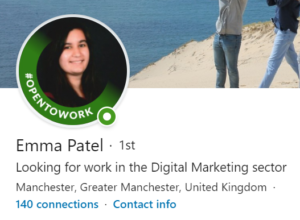 With LinkedIn being considered the social media platform for business, it pays to show that you are looking for new job opportunities on the platform.
LinkedIn has now made the fact that you're 'Open to Work' an attractive visual in the form of a photo frame on your Profile image to help your Profile stand out to recruiters and businesses who are hiring in searches and feeds. It will also be visible when you comment on a post.
Social Media Today explains how to turn the 'Open to Work' feature on.
After you have the feature turned on, you can use #opentowork in a post and reach even more LinkedIn users who may be able to help you into your next career move.
Offer Help
Directly offering someone a job isn't the only way you can assist someone on LinkedIn. Making an introduction, offering career coaching, reviewing CVs or offering general help are all different ways you can show support to your LinkedIn community.
One of the new features on LinkedIn is the option to select 'Offer Help' when creating a post. You can then choose what type of assistance you'd like to supply and then when you publish your post, it will feature the #OfferingHelp tag accompanied by a hand waving emoji.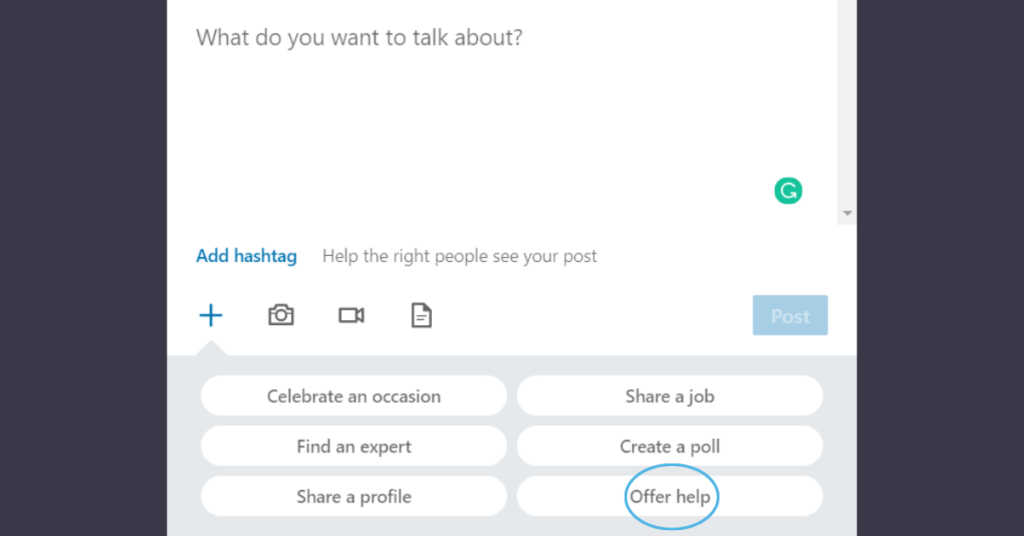 Pro tip: I'd recommend making sure the 'Anyone' option is selected at the top of your post so anyone on or off LinkedIn can view your kind offer to help rather than just your Connections.
'Send' Option
Have you noticed that 'Send' has been added to the list of actions you can take when posting on LinkedIn?
Sharing a piece of content from your own, or someone else's feed has always been a valuable function on LinkedIn. It used to be available from the three dots drop-down in the top right-hand corner of the post window as 'Send in a private message'.
Now it is front and centre on the main navigation.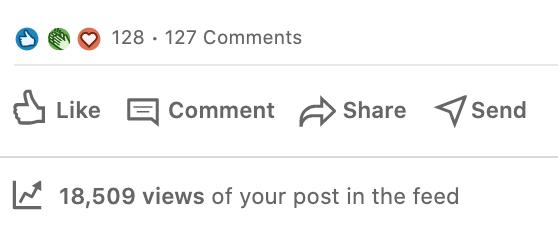 My Verdict
LinkedIn is clearly wishing people to accelerate their engagement, which is definitely a good thing, so this looks like a worthy improvement to me.
It will remind me to share great content with specific people, or groups I belong to, in a jiffy!
Enhanced Video Analytics
The new features on LinkedIn that we have discussed so far have centred around engaging and publishing posts on the platform. However, I was delighted to spot some more in-depth analytics surrounding video posts recently.
Simply click on the small grey triangle icon that resembles a 'play' button next to the number of views under your video post when on the desktop and the rich new analytics will be revealed!
Not only do we see reactions, comments and audience stats, but now we have a detailed timeline of watchers, total time viewed and lifetime viewers, delivered in a graph format.
The data is tracked for 25 weeks and you can view it weekly or over the last 7 days.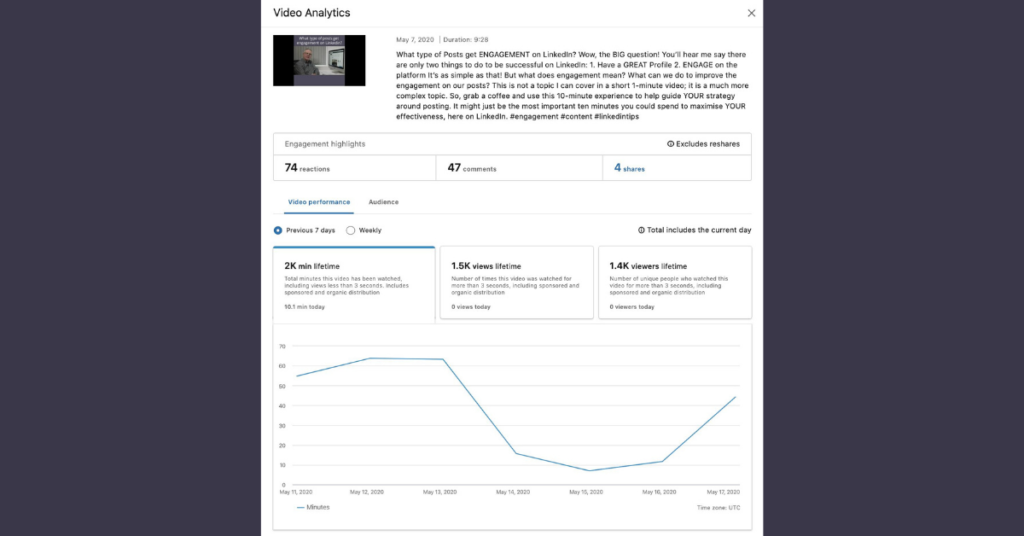 My Verdict
This is excellent! I'm an especially big fan of these improved video analytics as I post a lot of videos on LinkedIn and on my YouTube channel. The extra insights allow us to know what video content is attractive to our audience and when. Some additional audience demographics would be nice too, though!
---
So, there you have it folks, a roundup of all the new features on LinkedIn! Which ones do you like the sound of most? Have I missed any? Let me know over on LinkedIn!